National Trails Awards
The National Trails Awards is one way American Trails

recognizes the exemplary people across the landscape of America who are working to create a national system of trails to meet the recreation, health, and travel needs of all Americans. Awards are given out every two years during the American Trails National Symposium.
OPRHP is proud to recognize the 2019 Advancing Trails Award Winner for New York State.
2019 State Trail Award for New York
The State Awards recognize individuals who have made compelling and significant contributions to the trails movement in their home states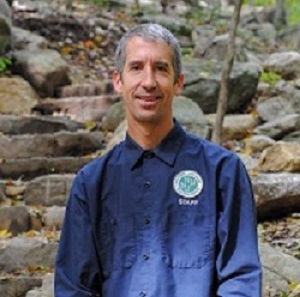 Erik Mickelson
As the Field Manager for the New York-New Jersey Trail Conference, Erik works tirelessly to improve trails in New York. Erik's work is focused mostly in New York's Hudson Valley, a region full of iconic views, historic landscapes, and people passionate about the outdoors. On any given day Erik can be found teaching the next generation of trail leaders through the Trail Conference Conservation Corps, instructing volunteers on trail construction and maintenance techniques, working with staff and partners to design solutions for complex trail constraints, or scouting sustainable routes that balance enjoyable recreation with responsible conservation. Eric is a consummate trail professional whose technical skill and artistic vision have contributed greatly to the trails in New York State.
Read more about the 2019 award winners at American Trails

.
Past Award Recipients
2013 State Trail Advocacy Award for New York
The Trail Advocacy Award is given to an individual/organization that has demonstrated successful efforts to influence public policy relating to trail planning, trail protection, trail development, or maintenance.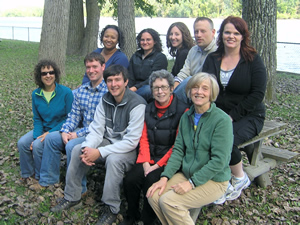 Parks & Trails New York
Parks & Trails New York (PTNY) is New York's leading statewide advocate for parks and trails dedicated to improving the health, economy, and quality of life of all New Yorkers through the use and enjoyment of green space since 1985. PTNY has worked with hundreds of community organizations and municipalities to envision, create, promote, and protect a growing network of parks and more than 1,500 miles of greenways, bike paths, and other trails throughout New York State. Trails advocacy is at the core of all of PTNY's efforts...
To read the entire story visit American Trails

.
2013 State Trail Worker Award for New York
The State Trail Worker Award recognizes an individual that has demonstrated outstanding contributions and provided consistent support for trail planning, development, or maintenance. It is intended to recognize the commitment and efforts of a private or public sector individual working for enhanced trail recreation in their local area/state.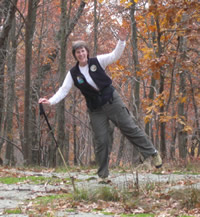 Jane Daniels
Jane Daniels, in addition to being a member and volunteer of the New York-New Jersey Trail Conference since 1979, has been involved with trails from the local to regional and state level over the past three decades. Her ever-present dedication to the trails community is evident in the many positions she's held, efforts she's organized, trail books she's authored or edited, and most recently her leadership in the Yorktown Community Trails project...
To read the entire story visit American Trails

.
2010 State Trail Advocacy Award for New York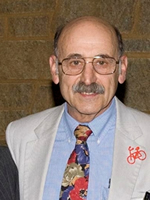 Ivan P. Vamos
Ivan Vamos retired in 1993 as the Deputy Commissioner for Planning and Development for NYS Office of Parks, Recreation and Historic Preservation (OPRHP) where he was responsible for land and water resource management, development, planning, construction, land acquisition, and environmental programs for more than two decades. He worked for State Parks, Conservation, Transportation agencies, the military and private firms for 48 years. During his tenure with State Parks, Ivan was more than a Deputy Commissioner but a person who was a true advocate for trails from the office and in the field...
To read the entire story visit American Trails

.
2010 State Trail Worker Award for New York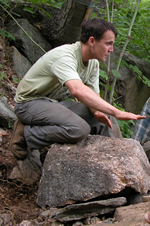 Eddie Walsh
Eddie Walsh, a member of the New York-New Jersey Trail Conference (NYNJTC), has been assisting with trail development and maintenance since an early age. Over the years his passion for trails has led him to become a leader in both training volunteers in the various skills for trail development and coordinating the actual on the ground work. Eddie has been building trails professionally since 1993. Before founding Tahawus Trails LLC he was employed by many Northeast trail organizations including the NYNJTC, the Adirondack Mountain Club (ADK), Appalachian Mountain Club (AMC), Appalachian Trail Conservancy (ATC), Maine ATC, GMC and RMC. Within the NYNJTC, Eddie has also supervised the Twin Forts Steps Project, Popolopen Creek Bridge, Southfields furnace bridge, the Wappinger Greenway Trails Project, Closter Nature Center Trails project and the Echo Lake Handicap Accessible Trail Project and the Bear Mountain Trails Project. He has also taken on many private trail contracts...
To read the entire story visit American Trails

.
RTP Annual Achievement Awards
The Coalition for Recreational Trails

(CRT) selects winners for the "Annual Achievement Awards

" in recognition of outstanding use of Recreational Trails Program (RTP) funds.
2009 Environment and Wildlife Compatibility Award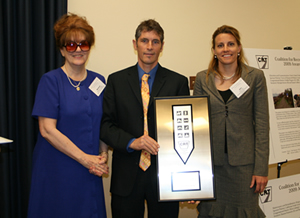 Highbridge Park Project in New York City
A 2005 RTP award was utilized to create bicycle trails at Highbridge Park in New York City, marking the first time that bicycles have been allowed in New York City parks since 1991. The project was completed in 2007. The standards recommended by the International Mountain Bicycling Association convinced the City's Department of Parks and Recreation that professionally designed mountain bike trails could be built and maintained in New York City parks.
Highbridge Park was chosen as it was seen as underused for recreation and had long been a draw for illegal activities. At the same time, the recreational needs of the neighborhood youth were being underserved, increasing their long-term health risks and the costs for the city. Concerned Long Island Mountain Bicyclists (CLIMB) decided to not only focus on mountain bike trails, but also on BMX facilities, to increase the community's connectivity to the park...
To read the entire story visit American Trails

.