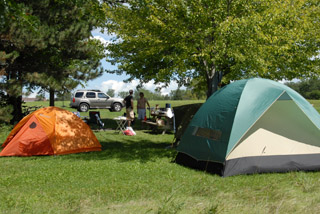 Encompassing just over 2000 acres on the eastern shore of Seneca Lake, Sampson State Park features camping and boating as the primary recreational activities. The park has 243 electric campsites. The newly remodeled marina has 96 boat slips, a large multiple launch site and gas pumps. A key feature of the park is the beautiful view of the lake at its center, and the most picturesque sunsets in the Finger Lakes Region. Activities include tennis, horseshoes, basketball and volleyball, a sandy beach with guarded swimming, playgrounds, and a scenic lake trail. Other popular activities include fishing, hunting, biking, hiking, local golf, geocaching, and wildlife viewing and photography.
South of the Park Entrance on Rt 96A is the Sampson Veterans Memorial Cemetery
Seneca Lake Resorts Marina and Cabin Information
Current Water Quality - Beach Results
Pet Policy: A maximum of two pets are allowed in campsites and day use areas unless prohibited by sign or directive. Pets are to be supervised at all times and either be crated or on a leash not more than 6-feet in length. Proof of rabies inoculation shall be produced if requested by staff. Pets are not permitted in playgrounds, buildings, golf courses, boardwalks, pools and spray-grounds or guarded beaches (this does not apply to service animals).
Hours of Operation
The park is open year-round, dawn to dusk.
Park hours and facility operations are subject to change. Patrons are encouraged to contact the park directly to confirm operating hours before traveling.

Restrooms may not be available in the winter and will be limited during the early spring and late fall.
Daily operating hours are from dawn to dark. Visitors not registered to a campsite or boat slip must leave the park no later than 10pm.
2022 Swimming Season:

June 18 - September 5

11 am - 7 pm, daily.

2022 Camping Season: 5/20 - 10/10*
Cottages: 5/19 - 10/10**

*Campsites & Cottages closed 9/26 - 10/04/22 for Dog Show
**--Week long reservations until 9/10 then a two night minimum

*Please note within the camping season time frame, some loops/sites may open later or close earlier. For more details, please call the park or visit http://www.newyorkstateparks.reserveamerica.com
Seneca Lake Resorts Marina and Cabins:
Contact Seneca Lake Resorts for more information at 315-835-5810 or 315-651-4949
Visit the Seneca Lake Resorts website at https://senecalakeresorts.com/
Military Museum:

2022 season opens Memorial Day Weekend; Wednesday – Sunday 10:00am – 3:00pm until Columbus Day Weekend.

Hours subject to change.


Hunting is allowed with a daily permit during published seasons.
Fees & Rates
Most New York State Parks charge a vehicle use fee to enter the facility. Fees vary by location and season. A list of entry fees and other park use fees is available below. For fees not listed or to verify information, please contact the park directly.
The easy-to-use Empire Pass card is $80- and your key to all-season enjoyment with unlimited day-use entry at most facilities operated by State Parks and the State Dept. of Environmental Conservation including forests, beaches, trails and more. Purchase online or contact your favorite park for more information. Learn more about our Admission Programs including the Empire Pass.
Bicycle Rentals
Regular Bike: $5/hour; $20/day
Tandem Bike: $10/hour; $35/day
Peddling Fee
$400
Camping
Campsites:
$15-$31/night

Base Rate: $15 per night
Electric Fee: $6 per night
Weekend/Holiday Fee: $4 per night
Out of State Fee: $5 per night
Walk-in Fee: $1.25
Reservation Fee: $7.25

Cottages:
Weekly Rentals
1 bedrooms: $1200 a week
2 bedrooms: $1400 a week
Reservation Fee: $7.25

Two-night Minimum (9/10/22 - 10/10/22)
1 bedrooms: $300 per night
2 bedrooms: $350 per night
Reservation Fee: $7.25
Seneca Lake Resorts Marina and Cabins
Contact Seneca Lake Resorts for more information at 315-835-5810 or 315-651-4949

https://senecalakeresorts.com/
Maps
Firewood source maps show a 50-mile radius from which untreated firewood may be moved to this campground. For more information see firewood restrictions.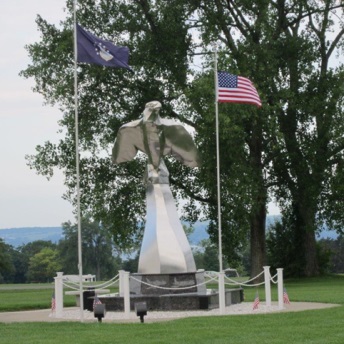 Sampson State Park's 2,000 plus acres gently slope to the eastern shores of Seneca Lake, the largest of Central New York's' famous Finger Lakes. The Finger Lakes were created during the Ice Age by the formation and then retreat of the Pleistocene glaciers. The melting glaciers left behind a pristine lake we now call Seneca, to the depths of 630 feet, with 75 miles of shoreline, four miles of which are accessible and lie within Sampson's boundaries.
Sampson's story begins with the Sullivan Campaign of 1779, a major military offensive of the Revolutionary War initiated by General George Washington. Sullivan's troops entered the Indian village of Kendaia destroying as many as 30 longhouses, their crops, and fruit trees. Land between the lakes became bounty land and was set aside to compensate New York soldiers after their participation in the war. Evidence of these early settlers still exists in the park today by a preserved pioneer cemetery near one of the deep ravines.
A century and a half later, following the outbreak of WWII, quiet farm life gave way to the establishment of the second largest Naval training facility in the country, where an astounding 411,429 recruits were trained from 1942 - 1946. This facility was named in honor of William T. Sampson from Palmyra, NY. Sampson was renowned for his victory in the battle of Santiago during the Spanish-American War. Post WWII, a portion of the grounds were transformed into Sampson State College, educating our returning servicemen from 1946 - 1949. With the outbreak of the Korean War, the Navy transferred ownership of the remaining land to the Air Force for the purpose of basic training Military Base which operated from 1950 to 1956. Ownership was again transferred in 1960 to the New York State Park System; and thus, the opening of Sampson State Park in 1963. In 1995 the Military Museum was opened within the park to share the history and to honor those Navy and Air Force servicemen that booted on Sampson's ground.
Many of the military buildings and roads have been removed or modified over the years in the transformation of the State Park. Heavy brush, pine and cedar thickets, and young growth wooded areas are slowly reclaiming the once cleared military land. Several steep ravines edged with old growth oak, hickory, ash, and maple traverse through the park land draining into Seneca Lake. This evolving landscape makes excellent habitat for songbirds, white-tailed deer, wild turkey, fox, coyote, raccoon, squirrel, rabbit, and other small mammals, as well as waterfowl and birds of prey including bald eagles and osprey.
Deer, turkey, small game, and waterfowl hunting is allowed at Sampson State Park by special permit only. Hunting dates and legal hunting implement will vary from the NYS DEC Hunting and Trapping Guide, but DEC rules of hunting will still apply. There are currently no antler restrictions in Sampson State Park.
2022/23 Hunting Season Schedule

September 1st, 2022 (Thursday)
- Permitted Tree Stands allowed to go in-- (mandatory registration)->(removal by 3/1/23)
- Reservations for Special Zones 1-4 Begins
- Lottery Registration for Firearm Season Begins - (09/01 until 5 p.m. on 10/13)
- All information must be complete to receive a permit (Phone number you can be reached at WHILE hunting, Vehicle information, Address, and Emergency contact)
October 1st, 2022 (Saturday)
- Opening Day of Big Game Bow Season
- Special Bow Only Zones 1, 2, & 4 Open - (pre-registered hunters ONLY)
October 15th, 2022 - December 20th, 2022
- Fall Turkey Season (Bow only)
October 16th, 2022 (Sunday)
- End of Lottery Registration for 5 day Shotgun Season - (5 pm deadline.)
October 17th, 2022 (Monday)
-Lottery drawing for 5 day Shotgun Season - (Limited to 20 hunters per day)
-10am Lottery Draw open to the public
November 2nd, 2022 (Wednesday)
-Special Bow Only Zones 3 Opens - (pre-registered hunters ONLY)
November 25th, 2022 (Friday)
-Sampson 5 day Shotgun Season Open - (11/25 to 11/29)
November 29th, 2022 (Tuesday)
-Sampson 5 day Shotgun Season Closes
December 12th, 2022 (Monday)
- Late Bow & Muzzleloader Season Open (5 days only)
December 20th, 2022 (Tuesday)
-All Big Game Seasons Close - No new Holiday Hunt Dates
December 21st, 2022 - January 1st, 2023
-Waterfowl (Only after Big Game season has ended in the Park)
December 21st, 2022 - February 28th, 2023
-Small Game (only after Big Game season has ended in the Park)
March 1st, 2023 (Wednesday)
-All tree stands must be removed from the park and permits returned to the office upon removal.
A special park hunting permit is required for all hunting at Sampson State Park along with blaze orange hat or vest while moving. Gun hunters should wear orange at all times.
All harvested deer must be recorded at the park office.
Safety zones and restricted areas are posted to ensure the safety of other park patrons and regional personnel. Signs will be posted at all parks during hunting season to notify patrons of this activity. Handguns will not be permitted in park. No trapping is allowed
For maps see links below:
Deer  Small game  Waterfowl  Spring Turkey
For additional information, please contact Sampson State Park at: (315) 585-6392.