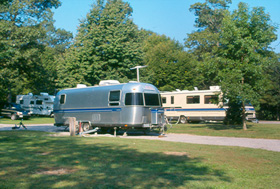 Wildwood State Park comprises 600 acres of undeveloped hardwood forest terminating on the high bluff overlooking Long Island Sound. Trailer and tent sites are available for campers. Swimmers can take advantage of the cool waters of the Sound, and picnickers can relax at shaded picnic tables as their children enjoy the nearby playground. Visitors can fish and use the hiking and cross-country ski trails.
NEW Cottages! Checkout the newly built cottages offering 3-season accommodations. These comfortable dwellings are nestled among the trees and are just a short walk to the beach.Cottages can accommodate 2-6 people and include; living room, bedroom(s), full kitchen, bathroom and screened porch.
Find more about park permit information.
Current Water Quality - Beach Results
Pet Policy: No pets allowed.
Fees & Rates
Most New York State Parks charge a vehicle use fee to enter the facility. Fees vary by location and season. A list of entry fees and other park use fees is available below. For fees not listed or to verify information, please contact the park directly.
The easy-to-use Empire Pass card is $80- and your key to all-season enjoyment with unlimited day-use entry at most facilities operated by State Parks and the State Dept. of Environmental Conservation including forests, beaches, trails and more. Purchase online or contact your favorite park for more information. Learn more about our Admission Programs including the Empire Pass.
Camping
Camping:
$18-$35/night

*Additional $5/night for non-NYS residents



1 Bedroom Cottages:
Non-Peak: $175/night, $1,050/week
Peak: $200/night, $1,200/week
Core: $1,200/week

2 Bedroom Cottages:
Non-Peak: $225/night, $1,350/week
Peak: $250/night, $1,500/week
Core: $1,500/week

2nd Vehicle Pass: $20 for duration of reservation. Sold only in association with camping reservations. Limit of one 2nd vehicle pass per per reservation.

Permits
Metal Detecting:
By Permit Only $40

Night Sport Fishing Permit:
NYS Driver's License $35
Out of State Driver's License $60
7-Nights Sport Fishing Permit $25

5/27 - 9/4/23
Permits sold at Babylon Headquarters

Star Gazing Permit:
NYS Driver's License $35
Out of State Driver's License $60

Night Photography: $35

1/1 - 3/31/23 and 9/6 - 12/31/23

Vehicle Entrance Fee

Fee Collected:

$8, 4/1/23 to 5/29/23: Weekends/Holidays, 8:00 am - 4:00 pm

$10, 5/30/23 to 9/4/23: Daily, 8:00 am - 4:00 pm

$8, 9/9/23 to 10/9/23: Weekends/Holidays only, 8:00 am - 4:00 pm


Per Bus:


Non-Profit Buses (By permit only) $35
Commercial Buses $75
No buses on weekends or holidays

Maps

New! Download this park's digital map to your iOS Apple and Android device.
Firewood source maps show a 50-mile radius from which untreated firewood may be moved to this campground. For more information see firewood restrictions.
This area is comprised of lands under the jurisdiction of the new York State Office of Parks, Recreation and Historic Preservation and the New York State Department of Environmental Conservation managed under a cooperative agreement with the DEC. DEC manages hunting in this area under the authority of the Fish and Wildlife Management Act. Please note the hunting rules and regulations listed below.
Hunting Procedures
Wildwood State Park Cooperative Hunting Area is open to archery hunting only. A managed land access permit is required to hunt on this area. Access permits are free and valid for 3 years. Access permits must be carried while on the property an parking permit must be visible on the dashboard of your vehicle while on the property. Permits are valid from 2 hours before sunrise to 2 hours after sunset. All vehicles must be parked in a numbered parking area with vehicle pass visible through the windshield. Maximum party size for archery hunting is two individuals. Managed land access permits can be obtained on our website at: http://www.dec.ny.gov/outdoor/40414.html#Seasonal
1. All hunting is prohibited on the Wildwood State Park Cooperative Area except by permit from the Department of Environmental Conservation.
2. Wildwood State Park Cooperative Hunting Area is open to archery deer hunting only. Archery deer hunting is permitted from November 1st through January 31st.
3. Trapping is not permitted on the Wildwood State Pak Cooperative Hunting Area.
4. All applicable provisions of the Environmental Conservation Law will be in effect, and no person may violate the provisions of any law or regulatory sign while using the property.
5. Permits are valid only for the dates issued, and they are not transferable.
6. Permittees must park at designated parking sites and then only if the site quote is not filled.
7. Permittees shall have access only to lands situated on the same side of the road as the permittee's parking site.
8. Permits must be shown to any official requesting to see them.
9. No rifles or pistols shall be used or carried afield in the area.
10. No target or promiscuous shooting is permittee don the area.
11. Construction of permanent blinds, tree stands or other structures is prohibited.
12. Permits obtained by fraud or when the permittee is suspended from using the area shall be void.
13. The area will be closed on Thanksgiving, Christmas, and New Year's Day.
14. All deer taken on this area must be checked at the Ridge Hunter Check Station (631) 924-3156
15. Hunting may not occur within 50 feet of a marked hiking trail.