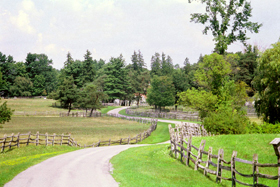 Ladders to the Outdoors - programming and activities connecting Western New York youth with the outdoors
Knox Farm State Park is the former country estate of Buffalo's renowned Knox Family. It is located adjacent to the historic village of East Aurora, birthplace of the Roycroft Arts & Crafts movement and former home of Millard Fillmore. The park's 633 acres are comprised of a variety of habitats, including 400 acres of grasslands (pastures and hayfields), and 100 acres of woodlands, ponds and several wetland areas.
Visitors to Knox Farm can observe wildlife, hike, cross-country ski and ride horseback along beautifully scenic nature trails. Nature walks are also offered through a partnership with New York Audubon and the Buffalo Audubon Society, as well as programs offered by state park naturalists. The Knox Farm Visitor Center contains exhibits of historic and natural interest. Biking is allowed in designated areas and horseback riding and driving by permit only.
An "Equestrian Permit" is required for riding horses within Knox Farm State Park. Please fill out the updated form found under "Documents" below, and note that you no longer need to submit for signature. For filming and special use permit information or other questions, please contact knoxfarms@parks.ny.gov
The Native Landscape Resource Center is located at Knox Farm State Park. The first of its kind for New York State Parks, the NLRC is a native plant nursery growing plants for habitat restoration, landscaping and gardening purposes. These plants are utilized to help the Western District of NYS Parks adhere to the directives outlined in Parks' Native Plant Policy. Trees, shrubs, forbs and grasses are primarily propagated from locally collected seed to preserve and enhance genetic variability within each species.
The park also hosts a dog park that is very popular with its four legged visitors. The dog park is approximately 6 acres and is divided into two main areas for large dogs and one smaller area specifically for small dogs. There are water spigots in or near each section for filling pet bowls / buckets.
Pet Policy: A maximum of two pets are allowed in day use areas unless prohibited by sign or directive. Pets are to be supervised at all times and either be crated or on a leash not more than 6-feet in length. Proof of rabies inoculation shall be produced if requested by staff. Pets are not permitted in playgrounds, buildings, golf courses, boardwalks, pools and spray-grounds or guarded beaches (this does not apply to service animals).