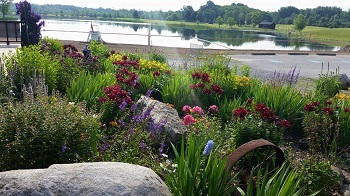 Darien Lakes State Park's terrain is hilly with woodlands, ravines, streams and 12-acre Harlow Lake. The park has a total of 154 campsites, 141 with electricity and 13 primitive sites without. Also available are heated public restrooms and showers, a beach, playgrounds, fishing, hiking and horseback riding trails, picnic areas and a rustic bridge over the lake channel to Picnic Island. In winter, multiple-use trails are open for hiking, cross-country skiing and snowmobiling. Darien also has two picnic shelters available for a fee by reservation only.
Tent/Trailer Campsite 2023: Information and Rules
Pavilion Information:
Darien Lakes has two pavilions. Prices range from $50 to $100 and can accommodate 70 to 140 people. Check availability at ReserveAmerica.com
Current Water Quality - Beach Results
Pet Policy: A maximum of two pets are allowed in campsites and day use areas unless prohibited by sign or directive. Pets are to be supervised at all times and either be crated or on a leash not more than 6-feet in length. Proof of rabies inoculation shall be produced if requested by staff. Pets are not permitted in playgrounds, buildings, golf courses, boardwalks, pools and spray-grounds or guarded beaches (this does not apply to service animals).
Hours of Operation
The park is open daily from dawn to dusk.
2023 Swimming Season: Tentative Beach opening - mid-June - Labor Day, 11am-6:45pm daily. Weather and conditions permitting




2023 Camping Season: 5/19 - 10/8 **Closing dates for camping is the last night patrons can stay.

Deer and small game hunting is permitted in season with a park permit.

Shelter reservation season is daily, May 1st - September 30th.
Fees & Rates
Most New York State Parks charge a vehicle use fee to enter the facility. Fees vary by location and season. A list of entry fees and other park use fees is available below. For fees not listed or to verify information, please contact the park directly.
The easy-to-use Empire Pass card is $80- and your key to all-season enjoyment with unlimited day-use entry at most facilities operated by State Parks and the State Dept. of Environmental Conservation including forests, beaches, trails and more. Purchase online or contact your favorite park for more information. Learn more about our Admission Programs including the Empire Pass.
Camping
$18 - $30/night

*Out of state resident fee for camping, per night: $5
Vehicle Entrance Fee
Cars $7
Non-Profit Buses $35
Commercial Buses $75
Wood Permit

$25/day (when available)
Maps

New! Download this park's digital map to your iOS Apple and Android device.
Firewood source maps show a 50-mile radius from which untreated firewood may be moved to this campground. For more information see firewood restrictions.
Highlights of Darien Lakes State Park:
Harlow Lake is a great family friendly place for fishing. Recently restored, the pond is habitat for large-mouth bass and yellow perch, as well as various species of waterfowl and aquatic life.
Eleven Mile Creek runs through the park and cuts a ravine out of the shale exposing distinct fossils from the Devonian era, also known as the "Age of Fish," which lasted from 417 million to 354 million years ago.
Many old apple orchards can be found throughout the park, feeding lots of wildlife species in the fall.
Some areas of the park have a wild feel...
What will you see? Plan your visit today!
Look and listen for these birds at our Park:
Everyone is a Steward: Be a Darien Lakes State Park Hero!
Know the rules and concerns for the area you'll be visiting.
Use a map and compass instead of flagging, rock cairns, or marking paint.
Hike and camp on established, durable trails and campsites.
Leave all natural objects as you find them.
Be careful with your fire.
Respect wildlife and observe from a distance.
For more information, please read our Trail Tips!
Ask a Naturalist!
Q: What is succession?
A: Succession is the process of change in the species structure of an ecological community over time. It begins with pioneering plants and animals and develops with increasing complexity until it becomes a stable or self-perpetuating climax community. These changes typically occur after a disturbance or initial colonization of new habitat. Several successional habitat communities can be viewed at Darien.
Q: Is it okay to go off the trails?
A: No, staying on the trails is very important. Off-trail use can degrade the fine textured soils of the silver maple ash and beech maple mesic forest and cause erosion. You may also trample vegetation.
Q: Are any rare species found here?
A: Surveys conducted did not find any rare species, but historical records indicate that the old field and successional shrubland habitat within the park provide potential breeding grounds for rare grassland birds species, such as Henslow's Sparrow, Northern Harrier and Upland Sandpiper. Shrubland habitat is a plant community characterized by shrubs, but often also includes grasses and herbs.
Did You Know?
- DID YOU KNOW? A bird house for purple martins was erected near Harlow Lake in the spring of 2013 and has already fledged a number of birds.
- DID YOU KNOW? Darien Lakes State Park was originally called Harlow Lake and Park.
Please print and fill out the permit. Remember to read the rules before hunting.
Hunting is prohibited in the campground, day use areas, and disc golf course.