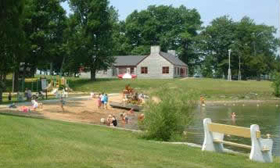 Cedar Point State Park, one of the oldest state parks in New York, is a popular spot, offering excellent camping, fishing, boating and swimming. The beach is sheltered and sandy, there are docks for boats, a fishing pier and picnic grounds. From the overlook area, visitors can watch ocean-going freighters pass by.
Pavilion Information
Cedar Point has three pavilions/tents. Prices range from $50 to $100 and can accommodate 30 to 100 people. Check availability at ReserveAmerica.com.
Current Water Quality - Beach Results
Pet Policy: A maximum of two pets are allowed in campsites and day use areas unless prohibited by sign or directive. Pets are to be supervised at all times and either be crated or on a leash not more than 6-feet in length. Proof of rabies inoculation shall be produced if requested by staff. Pets are not permitted in playgrounds, buildings, golf courses, boardwalks, pools and spray-grounds or guarded beaches (this does not apply to service animals).
Hours of Operation
Open from early May through Columbus Day.
Boat Rental: 5/5 - 10/8
2023 Swimming Season: 6/24 - 9/4, 10 am - 6 pm.
2023 Camping/Cabin Season: 5/5 - 10/8
Waterfowl hunting is permitted in season.
Fees & Rates
Most New York State Parks charge a vehicle use fee to enter the facility. Fees vary by location and season. A list of entry fees and other park use fees is available below. For fees not listed or to verify information, please contact the park directly.
The easy-to-use Empire Pass card is $80- and your key to all-season enjoyment with unlimited day-use entry at most facilities operated by State Parks and the State Dept. of Environmental Conservation including forests, beaches, trails and more. Purchase online or contact your favorite park for more information. Learn more about our Admission Programs including the Empire Pass.
Vehicle Use Fee (Includes Picnic & Beach Areas)
Day Use (Peak): $7
Day Use (NonPeak): $6



Bus Use (Daily):
Commercial $75
Non Profit $35

Toll Booth Hours:
8:00 - 4:00 pm (Non-Peak Weekdays)
8:00 - 8:00 pm (Non-Peak Weekends)
8:00 - 8:00 pm daily (Peak Season)

Campsites
$18-$34/night

*Additional $5/night for non-NYS residents
Boat Dockage

Day use (peak) - $7
Day use (non-peak) - $6
Campers - $12
Overnight - $19 (prime)
Pump out fee- $5

Seasonal Boat Dockage

$800/season (May 1st - Columbus Day)

Boat Rentals

Boat Rental Fee:
14'/15 HP Boat, $25.00/ per hour, $100.00/ per day, $400.00/ per week.
16'/20 HP Boat, $35.00/ per hour, $150.00/ per day, $$600.00/ per week.
Maps
Firewood source maps show a 50-mile radius from which untreated firewood may be moved to this campground. For more information see firewood restrictions.