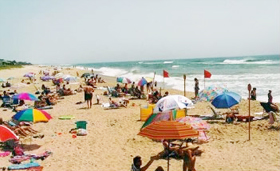 Hither Hills State Park offers visitors scenic picnic areas and fireplaces, sport fishing, a sandy ocean beach, playing fields, a playground and a 189-site campground on the ocean. Anglers can fish year-round and obtain permits to fish at night. The unique "walking dunes" of Napeague Harbor are located on the eastern boundary of the park, which also has woodlands filled with Russian olive, oak, shad and pine trees. Bridle paths and hiking, nature, biking and cross-country ski trails are available.

Please Note: Motor homes, pop-ups and trailers are not allowed in the parking lot Friday, Saturday & Sunday.
Current Water Quality - Beach Results
Pet Policy: No pets allowed
Hours of Operation
Park is open year round, 7 days a week, sunrise to sunset.

Ocean Swimming: May 27 through September 17, 2023;

5/27 - 6/23/23
10 a.m. - 5:30 p.m. Daily
6/24 - 9/17/23
10 a.m. - 6 p.m. Daily

2023 Camping Season: 4/14/23 - 11/19/23
Fishing: Year round, permit required. Permit also required for night fishing and beach vehicles. Available at park office and Babylon Headquarters.

7 day fishing permit available: 5/27 - 9/4/23

Annual permit available: 1/1 - 3/31/23 & 9/5 - 12/31/23

Big game and small game hunting are permitted during season.

Hunting Information
Small Game: Dec. 1 to Feb. 29. No hunting during January Deer Season. No turkey hunting or trapping.
Archery: Nov. 1 to Dec. 31 No turkey hunting/trapping.
Waterfowl: Dec. 1 to End of Season. No hunting on weekends or holidays at Hither Hills. No hunting during January Deer Season.
Shotgun: Jan. 6 to Jan. 31, weekdays only.
Recreation Programs: 6/24/23 - 9/4/23
Fees & Rates
Most New York State Parks charge a vehicle use fee to enter the facility. Fees vary by location and season. A list of entry fees and other park use fees is available below. For fees not listed or to verify information, please contact the park directly.
The easy-to-use Empire Pass card is $80- and your key to all-season enjoyment with unlimited day-use entry at most facilities operated by State Parks and the State Dept. of Environmental Conservation including forests, beaches, trails and more. Purchase online or contact your favorite park for more information. Learn more about our Admission Programs including the Empire Pass.
Vehicle Entrance Fee
Cars $10 daily
Non-Profit Buses $35 (By permit only at the Babylon Office)
Commercial Buses $75
Buses by Permit only (not in July or August) on weekends.

Fee Collected:

Daily 8:00 am - 4:00 pm

May 27th, 2023 to September 11 2023
*Collected via automatic pay station at parking lot #2.

Camping

$35/night$
70/night for non-NYS residents

Motor homes, pop-ups and trailers are not allowed in the parking lot Friday, Saturday & Sunday.

Group Camps
Group Camps are available. Please contact the park directly for fees and availability.
Permits
4 Wheel Drive Beach Vehicle Fishing Permit:
NYS Driver's License $80
Out of State Driver's License $125

4 Wheel Drive Beach Vehicle Surfing Permit:
NYS Driver's License $80

7 Day Sport Fishing Permit:
$25
Out of State Driver's License $125

Night Sport Fishing Permit:
NYS Driver's License $35
Out of State Driver's License $60

Star Gazing Permit:
NYS Driver's License $35
Out of State Driver's License $60

Maps
Firewood source maps show a 50-mile radius from which untreated firewood may be moved to this campground. For more information see firewood restrictions.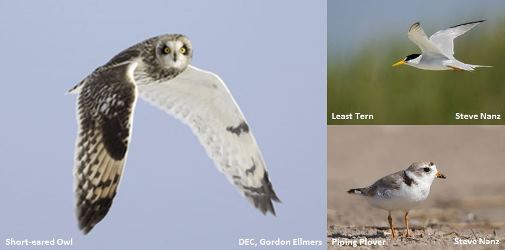 Key BCA Criteria:
- Pelagic bird site
- Diverse species concentration site
- Species at risk site
The Napeague BCA consists of portions of Napeague and Hither Hills State Parks. It includes most of Napeague State Park and the western portion of Hither Hills State Park. It is located on eastern Long Island's South Fork.
Pelagic birds in the BCA include Least Terns and, until recently, Common Terns. Hicks Island had supported an average of 25 pairs of Least Terns per year for 14 years and an average of 106 pairs of Common Terns per year for 15 years. In 2006, within the BCA, there were 35 pairs of Least Terns on Hicks Island, 17 pairs at Goff Point and 3 pairs at Napeague Beach although they were unsuccessful. Diversity of birds is due in part to the fact that Napeague/Hither Hills is part of one of the largest, relatively unfragmented areas of maritime open space on eastern LI. Diversity of breeding birds is high including beach/dune species such as Piping Plover, Least Terns and American Oystercatchers. Roseate Terns and Black Skimmers have bred here in the past. Species at risk include both breeding species and wintering Short-eared Owls. The area around Napeague Harbor is one of the few sites on eastern Long Island that is still occupied by Northern Harriers during the breeding season. In addition to breeding by state threatened species, Northern Harrier and Least Terns, and species of special concern, Osprey, the site also hosts state endangered wintering Short-eared Owls. The state-endangered/federally threatened Piping Plover nests at Hicks Island, Goff Point and Napeague Beach.
In 2006, 23 pairs fledged 11 young. In 2005, 18 pairs fledged 23 young. The Hicks Island Common Tern colony was one of the more successful sites for Common Terns on Long Island. Habitat still exists and the site will be managed to increase chance for nesting success.
Download a copy of the BCA map.
In addition to statewide hunting regulations, special restrictions are in effect in state parks to protect visitors to ensure sound wildlife management. Hunters are advised to check with the state park regional office and with the local DEC wildlife management office for specific information.
All hunters must have a valid New York State hunting license and, where applicable, a federal waterfowl permit. Waterfowl hunters should note that current state regulations prohibit the use of lead shot.
Hither Hills State Park is open for small game hunting from 12/1 - 2/29 and waterfowl 12/1- end of season. Deer season runs from 1/6-1/31, weekdays only. Hither Hills is also open for archery deer season from 11/1-12/31. Small game and waterfowl hunting are not permitted during January deer season. Trapping/turkey hunting is not permitted.
Permit and deer hunting information may be obtained from the regional office of the New York State Department of Environmental Conservation, which can be reached by calling 631-444-0273.