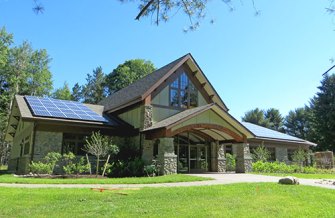 The Humphrey Nature Center at Letchworth State Park opened in June 2016 and offers year-round environmental education opportunities for school groups, scouts, youth organizations, and the general public. Programming at the center focuses on the main topics of interest around the park, including geology, wildlife and botany. The building is open Thursday - Monday 10:00AM - 5:00PM. The building is closed Tuesdays and Wednesdays November 1 - April 30. Open daily 10:00AM - 5:00PM, May 1 - October 31.
The Humphrey Nature Center houses many interactive exhibits that especially highlight the plants and animals, geology and river ecology of Letchworth State Park. A video through the gorge during each of the four seasons plays on a loop on the face of a large reconstruction of the gorge wall. There is also large classroom/meeting space in the building.
Outside the Humphrey Nature Center you will find an outdoor classroom, butterfly garden, a bird observation station, and sustainable features such as solar panels and a cistern for collecting rainwater. There are trails that leave from the center that bring visitors to different points of interest such as Trout Pond, Inspiration Point Overlook and patches of old growth forest.
For more information about the Humphrey Nature Center, please give us a call at (585) 493-3680.